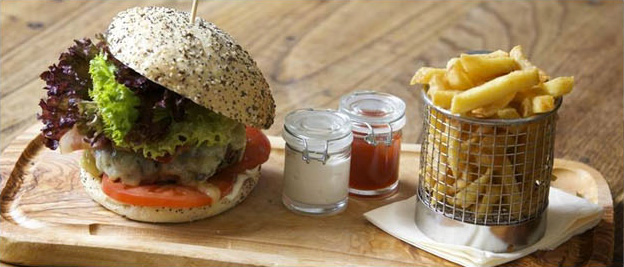 To us, an important element of any holiday is going out and discovering interesting places to enjoy a drink or a good meal. Fortunately, over the last few years Milford has become a bit of a 'foodie' destination. There are in fact no less than seven restaurants, four pubs, a wine bar, a fish and chip shop, a traditional beach cafe and three coffee places all within a 5-10 minute walk of Mulberry Barn and Old Walls Apartment. Whilst within a 5 minute drive is 'The Crown' at Everton which to our mind serves the best local pub food.
All the following views are our personal experiences, and there are many other worthy places to visit and we suggest buying the local newspaper 'Lymington Times' for all the nearby restaurant promotions and advertisements. We do recommend booking particularly Friday and Saturday nights as well as Sunday lunch.
Whilst you are in the area watch out for products that carry the The New Forest 'Marque' logo. Buying a Marque® product means you are getting authentic New Forest fare of the highest quality and you are also helping to support the traditional country ways in this unique and special landscape. So enjoy mouthwatering cakes, traditional hearty pies, carefully-reared meat, locally-caught seafood and traditional New Forest crafts – you will find all this and more under the banner of the New Forest Marque. Further information: www.newforestproducts.com
Milford-on-sea restaurants
Please note that some of Milford's restaurants are closed on Mondays and during the winter some on Tuesdays as well.
Verveine Fishmarket Restaurant.  A contemporary dining venue with a very strong fish bias which sources much of their produce from local suppliers. Small, fun and imaginatively served food. Winner of several Hampshire Magazine awards over the yeaars. 'The owner also run a traditional fishmonger (same address) should you wish to cook your own fish dinner! 01590 642176 or www.verveine.co.uk
La Perle. An intimate restaurant in the centre of the village. Smallish menu but each dish is beautifully prepared. Consistently serves excellent food at modest prices. Watch out for their specials, e.g. Sunday Jazz lunch. Tel: 01590 643557. www.laperle.co.uk
The Raft Rocks. Formally The Raft on Milford's high street but now moved to the ex Marine Restaurant which has a dramatic position on the seafront with panoramic views to the Needles. Very relaxed and informal atmosphere where families are very welcome. Speciality are the great Pizzas from the clay oven. Also does take aways. Tel: 01590 643027. www.theraftrocks.com
Zaika is the village Indian restaurant. Not too large, friendly and with a good variety of dishes. Reservations or take-away 01590 643084. www.zaikanewforest.co.uk
Thai Britannic has a menu in line with its name. Large menu with something for everyone. Efficient service. Our 'go to place' for takeaway. Reservations or take away 01590 642226.
South Lawn Hotel. A little further to walk to and now under new management so expect some exciting changes!. Nice terrace for summer dining and afternoon teas served. 01590 643911 or www.southlawnhotel.co.uk
Needles Eye Beach Café. Open from 9am to 6pm this inexpensive family run café is a great place for an English breakfast, a cup of coffee or a lunch time snack. We often walk down there on a sunny evening to enjoy a New Forest ice cream and watch the sun go down.
Milford-on-sea take aways
Mr Pink is the village fish and chip shop. The queues outside his shop are a testimony to how popular and good his fish dinners are! Stop press – currently closed for renovations
Zaika's, Thai Britannic and Raft Rocks all do take-ways as already mentioned.
Milford-on-sea wine bar
The Cave. Open 6 days a week (closed Monday's) this new contemporary style wine bar is open from midday till late. Morning coffee and cakes, world wines by the glass and a fine selection of premium English ales and a tasty nibbles menu. Plus a fine selection of gins. Off license as well. A great place to start or end your day!  01590 642195 or www.thecavemos.co.uk
Milford-on-sea pubs
White Horse. Friendly staff and sensibly priced reasonably food – although on a hot summer's evening it does get very warm in side.  01590 642360
The Smugglers. A family orientated pub with a large play ground in the garden. Not the place for a quiet drink! 01590 644414
The Red Lion. To my mind this pub lacks atmosphere. Having said that they do an excellent Sunday lunch and if you have a family (or just want to sit outside) they have the nicest beer garden in the village. 01590 642391
The Beach Hut. Operated by Hall and Woodhouse of Badger Ale fame so they have some great beers!. It has a great setting, close to the cliff edge and overlooking the Needles. Large and interesting pub menu very reasonably priced. 01590 643044.. www.beachhousemilfordonsea.co.uk
Milford-on-sea coffee places
Hurst on the Green – just a 2-3 minute stroll and serves some great coffee backed up by an interesting range of light food, sandwiches and snacks. Great place to get your gourmet picnic.
The Village Coffee Pot has excellent coffee, smoothies and organic juices as well as a good selection of light bites and baguettes.
Polly's Pantry a traditional village tea room does a good selection of coffees, light meals and ice creams.
Inger-Lise's. Good coffee and an interesting selection of open smorkesborg sandwiches.
Restaurants – further a field
There are a number of excellent restaurants nearby – here is a selection:
Pebble Beach at Barton is a fine dining contemporary designed restaurant with good views over Christchurch bay, an outside terrace and a good reputation. Well worth a visit even if just for a light lunch. (01425 627777)
Gordleton Mill in Hordle has a good local reputation for excellent, consistently good food as well as a lovely setting by the side of a stream. It has a restaurant, a bar area and a large outdoor terrace which is an ideal lunch or evening drink venue on a warm summer day. (01590 683073)
The Jetty in Mudeford is managed by local celebrity chef Alex Aitkens. A restaurant and bar so you can just relax with a bottle of wine or enjoy a meal from their good but unpretentious menu whilst enjoying great views over Mudeford Quay. (01202 400950)
Christchurch Harbour Hotel – The Upper Deck. Another great place for sundowners overlooking Mudeford harbour. 01202 483434
Terravina Hotel, in Woodlands is frequently rated as one of the top restaurants in the south of England (Remy Martin award in 2009). One side of the restaurant opens onto a wonderful veranda for al fresco meals when the weather is warm. The owner, Gerard Basset, was voted the World's Best Sommelier in 2010 so even the house wine is superb! If you are a wine buff this is the restaurant for you! Reservations: 02380 293784
Chewton Glen Hotel, New Milton, the quintessential 5 star luxury English country house hotel that has won countless awards over the years is just five miles away. For sheer indulgence and relaxation try a Spa Day. Fine but expensive dining. To experience this style of living on a budget have a drink on their terrace on a fine summer's evening. Stop press: their cookery school is scheduled to open Spring 2017www.chewtonglen.com. or call 10425 275341
Stanwell House in Lymington is a privately owned boutique hotel that has a good fish restaurant with an interesting menu. If you are visiting Lymington this is a more interesting spot for coffee rather than your traditional high street coffee places. (01590 677123)
Lime Wood a 5 star boutique hotel in heart of the New Forest. (Lyndhurst). The restaurant 'Hartner Holder & Co' is relaxed, stylish and comfortable with an emphasis on Italian food using local produce. Has a very reasonable priced two course lunch menu. Superb reputation so book early! www.limewoodhotel.co.uk. or call 02380 2867177.
The Pig the little sister hotel to Lime Wood but with more attitude. More of a restaurant with rooms in nearby Brockenhurst. Check out the web site as they also take their cooking pretty seriously. www.thepig.co.uk or call 01590 622354.
Lymington has a good selection of inexpensive restaurants, all on the High Street:
Lanes – reservations 01590 672777
Prezzo – reservations 01590 677910
Ask – reservations 01590 670419
Brasserie Gerard – reservations 01590 688689
Pubs – further a field
The Crown (01590 642655) at Everton to our mind serves the best Pub Food around these parts and this is our first choice for pub food. Yes – you pay a bit more – but we still go back!
The Gun (01590 642391) in Keyhaven is a great place to stop for a break whilst out walking. Their Crab sandwiches are very popular.
The Ship (01590 676903) on the quay in Lymington is a delightful place for an evening drink, though we have not been so lucky with the food there.
The Chequers (01590 673415) At Lymington is another traditional pub that caters for the 'yachties' Plenty of garden area and if you are feeling energetic it is a great walk from Milford via Keyhaven and the sea wall to Lymington. (Approx 2 hour walk). The return journey length depends on the sort of lunch you had!
The Red Lion in Boldre (01590 673177) is a good traditional pub that serves home made dishes and locally sourced produce.
The Oak Inn (02380 282350) at Bank (just west of Lyndhurst) is a favourite of ours as close to some good forest walks. The food is excellent.
The Hare and Hounds (01590 682404) in Sway has always been a popular local pub with reasonable food. My favourite is the liver and bacon stack!
East End Arms in East End (01590 626223) is owned by the bass guitarist of Dire Straits – see the many pop icon photos on the walls. Tucked away this pub food serves great food and well kept Ringwood Best. Reserve a table to avoid disappointment! (Drive past the Lymington ferry and keep going until you pass the pub on your right)